Rochie din catifea (95% poliester, 5% elastan), aspect catifea de metase, albastru persan. Nu are inchizatori. Nu e captusita. Material elastic. Ornament pe bust si lateral, din metal. Se poate strange pe fata lateral cu un siret gors din acelasi material pentru a da un aspect fronsat. Articol original.
Masuri: gat - 48, bust - 96, talie - 84, sold - 106, lungime - 87, lungime maneca - 26. Pe eticheta: S. Echivalare: M - L.
Brand: Fornarina / Italia.
Despre: "Fornari is a leading company in the production of apparel and footwear found in 1947. Fornari Group is about fashion brands which break the boundaries, set trends and express absolutely personal and unique vision and character, thus becoming a point of reference in the international young fashion scene. Fornari has shown a strong attitude to product innovation and the research of new markets since its foundation.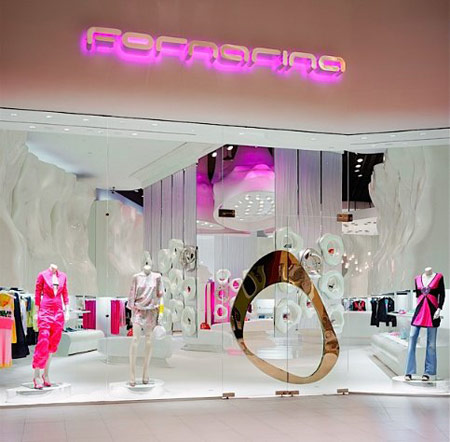 Today the company boasts a presence that stretches from the Milan headquarters to branches throughout Europe, the US and Asia, besides a retail network of approximately 130 points of sale for the Fornarina brand only.
The presence in world markets with a broad range of brands such as Fornarina, Fornarina Girl, Barleycom, Hvana and Combo/Combobella, triggered its commercial boom and the ability to find new styles and attitudes. At the beginning the company was mainly involved in the shoes manufacture industry, but Fornari soon and successfully broadened its business to other fashion product categories. In 1998 the first Fornarina clothing collection debuted, marking the beginning of an important growth process. One of Fornari's key success factors is ability to follow-up, carry out and monitor each project directly: planning, production, marketing strategies, communication and distribution, are all managed and controlled in-house, for the purpose of consolidating a remarkable corporate know-how.
The solidity of the product goes well together with an extremely distinctive communication: creative people, designers and art directors co-operate with the marketing department and the style office in order to start a consistent and organic workflow. Research and style innovation match perfectly with advertising, which interprets the product values through a contemporary language, open to music, art and new trends.
In order to gain direct control over distribution in the main international markets, the company has long created a network of commercial branches in the US, Asia, Scandinavia, France, Germany, Spain, the UK and Brazil, directly linked with the Civitanova Marche headquarters.
Retail takes on a very important meaning within the company's strategy, the investments on flagships stores are always carefully planned and the choices are selective. Fornari is in fact a group with a stand out brand identity, its brands convey a series of values such as innovation, an international attitude, everlasting evolution and a drive to impress.
This strong personalities also reverberates through their stores, the first point of connection between the company and the consumer, in order to establish a direct and steady contact, a constant dialogue which is very important for the strengthening and the development of the company itself.
Fornarina currently counts on 120 stores, 33 of which are located in Italy; Fornarina is also a player in the wholesale business in 1,000 Italian stores and 3,000 abroad." (Sursa: fashiongear.fibre2fashion.com)
Stare: perfecta.